Case study
How Tele2 uses insights to calibrate communications efforts, improve reach and efficiency
Read more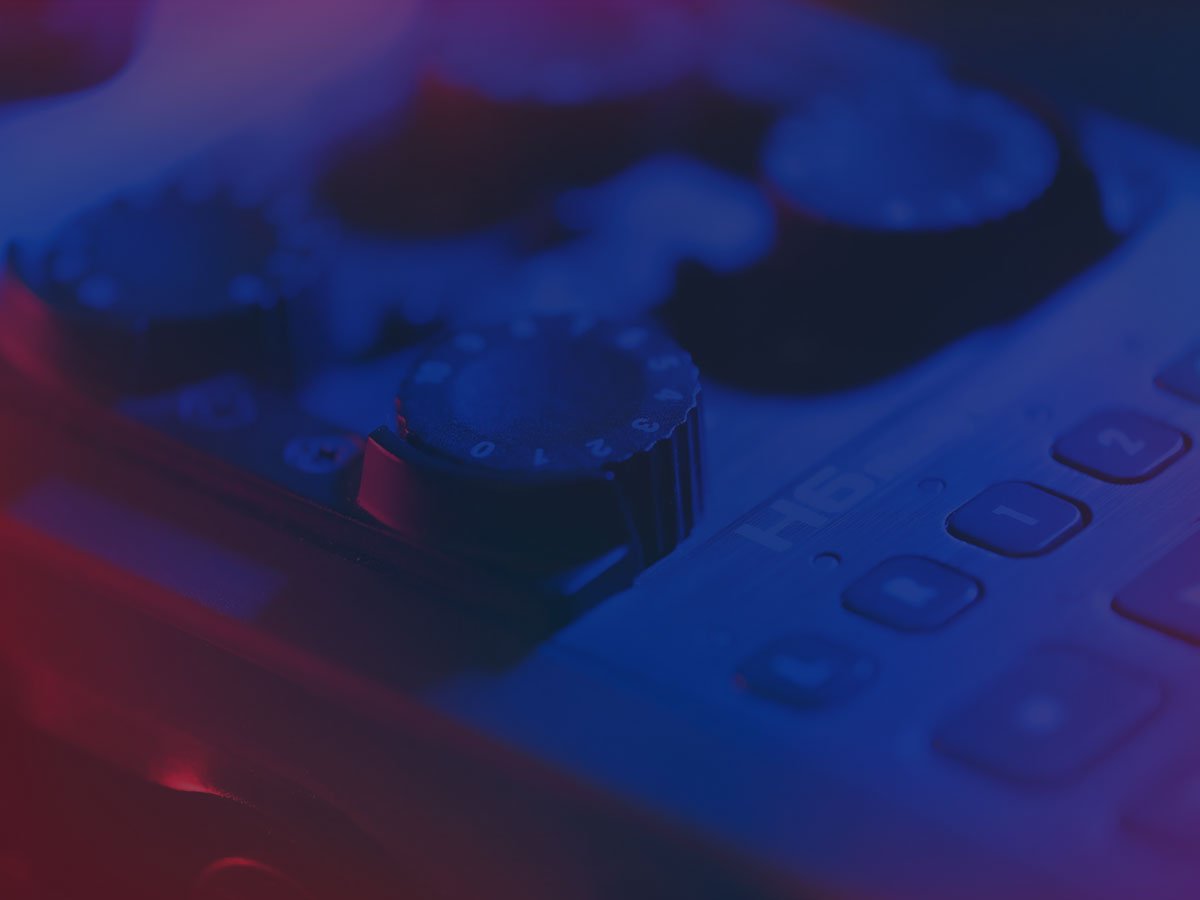 The case
Communications work is hugely challenging for businesses subject to a high level of media exposure, and without the right insights the fast-moving public and media discourse can quickly become overwhelming. The key to success? A scientific approach which ensures a granular grasp of the media discourse around your brand and up-to-date, actionable KPIs that facilitate effective internal and external communication. Which is exactly what Tele2 asks Whispr Group to help them with in our Media Analysis reports...
In summary:

As a leading European telecommunications operator working with the roll-out of cutting-edge 5G technology and serving both B2B and B2C customers, Tele2 has a high level of media exposure, meaning its communications work must be fast-moving and regularly fine-tuned to ensure continued effectiveness.


In our Media Analysis reports, Whispr Group combines cutting-edge AI and the expertise of analysts to ensure Tele2 has an in-depth, up to date grasp of the public discourse around its products, brands, and competitors.


The report includes actionable, relevant KPIs visualised in a manner that allows the communications team to effectively measure the impact of their efforts, as well as communicate results internally in a digestible way.


Over the years Whispr Group has continued to develop new custom KPIs in tandem with Tele2 to make sure its evolving communication needs are reflected with the most granular level of insight possible.


The end result allows Tele2 to calibrate its communications efforts to achieve better reach and be more efficient. Internal understanding of communication work is enhanced, while the creation of regularly updated KPIs based on a granular level of insight ensures the external comms team has a clear, unified view of the goals it should strive for.

The Customer
Viktor Wallström is Tele2's Executive Vice President of Communications and Sustainability:
"I head the team that's responsible for all internal and external communications at Tele2 as well as sustainability. We handle all communications towards the media, crisis communications, and everything connected to earned attention. We also handle all internal communication, communication to all employees, and sustainability work".
Sweden is one of the company's major markets, and its Swedish communications team covers B2C, B2B and corporate communications in the country. Whispr Group supplies Tele2 with monthly, yearly and additional ad-hoc Media Analysis for the market.
The Challenge
As a major telecommunications operator working with both B2B and B2C customers, at the forefront of launching cutting-edge 5G technology in Sweden, Tele2's communications work is complicated, diverse and fast-moving. It has to be kept track of with maximum accuracy and requires regular review to ensure efficiency:
"We are quite a big company and we're really crucial in today's society – our infrastructure enables life for so many people and businesses. If our services go down it could stop parts of society, so it's incredibly important that our business is always up and running and is highly resilient to all kinds of crisis. Given that we have both a B2B and B2C operation we're also highly exposed in the media. With all our five brands in the market, we need to make sure that we know what people think about us, say about us, and make sure that we handle that exposure towards the media".
To ease the process of reviewing and realigning communications efforts at the same pace as the fast-moving media world in which the company has significant exposure, Tele2 tasks Whispr Group with producing actionable, relevant KPIs in its Media Analysis reports, visualised in a an effective, comprehensible way (example visualisations included below):
"To me and the team it's super important we have KPIs that are actually relevant. It's quite easy to get a report containing a number of KPIs you can't really use or work with. So in cooperation with Whispr Group we worked to find KPIs that we can actually steer towards".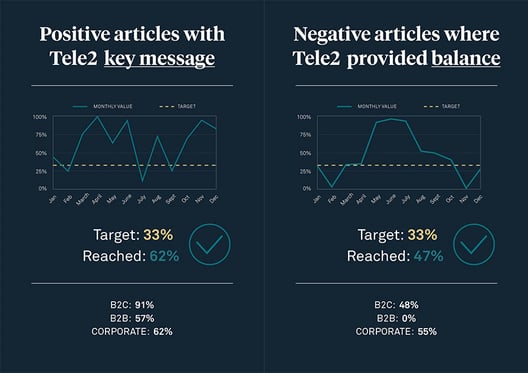 The Solution
In Whispr Group's Media Analysis reports for Tele2 Sweden our expert analysts provide in-depth insights on earned publicity in Swedish print and online editorial media. They also detail Tele2's competitors and their presence in those media forms.
Over the years of our longstanding relationship, Whispr Group has worked in tandem with Tele2 to provide an even deeper level of insights according to the evolving, increasingly granular level of information they require, developing new KPIs to give the communications department even more actionable data.
"For example we've had a lot of crisis management over the years at Tele2, so we decided together with Whispr to add our own KPI that shows how many negatively angled articles we provide comment to. Because that's a super important job that the team puts a lot of effort and time into. Our availability and effort in always providing a response to the media is reflected in that KPI."
"That's something we can see clearly and something we previously hadn't visualised. That's the most important thing for me: we try to have KPIs that are both relevant but also possible to affect as a team member. When we get the report from Whispr we can clearly see 'look, there's my job being visualised in the Whispr approach to media analysis'."
Another example is a specific KPI detailing media coverage that was a result of Tele2's own initiated PR efforts. It allows the communications department to quickly understand the reasons for the exposure they have achieved in a qualitative rather than quantitative way, helping them to track what they should be emphasising to engage journalists and achieve that exposure, and what is not achieving results.
Additionally, a KPI tracking the number of positive articles about Tele2 that specifically contained their key messaging helps the communications team to understand which efforts achieve the best results in ensuring core messaging is picked up by the media.
Outcome
The insights provided by Whispr Group facilitate Tele2 with an up-to-date reflection of the public discourse around its Swedish operations, enabling them to set targets that ensure the work done by the communications team is focused in an effective way. The clear way KPIs are visualised in the reports has also eased internal communications as well as helped to ensure the comms team has a clear, unified view of the goals it must strive for.
"I think we've calibrated our messages and our proactive efforts in a great way thanks to Whispr. We've had a better reach in that regard since we started the reports. We've also really visualised the work we do internally as a team towards other parts of the organisation and they've understood the importance of the work we do in a greater way because of the media reports".
"And the external communications part of my team are really triggered by the reports and KPIs, and work towards them and make sure they do everything possible to reach them. It has made our communications more efficient, and also more appreciated internally."
The tools Whispr Group provide cover everything we could need. The cooperation and the dialogue we've had together throughout the years has been really valuable: if we come up with something and say we want it covered, we always feel Whispr Group takes it seriously and makes a genuine effort to see how they can provide the solution. But they're also honest if they don't think the approach will work out in practice, rather than just saying 'here's a KPI' even though it won't be scientific enough. That's really important – Viktor Wallström, Tele2 Executive Vice President of Communications and Sustainability.
Want to learn more about how you might benefit from a similar collaboration? Complete the form below and we will contact you for more information!