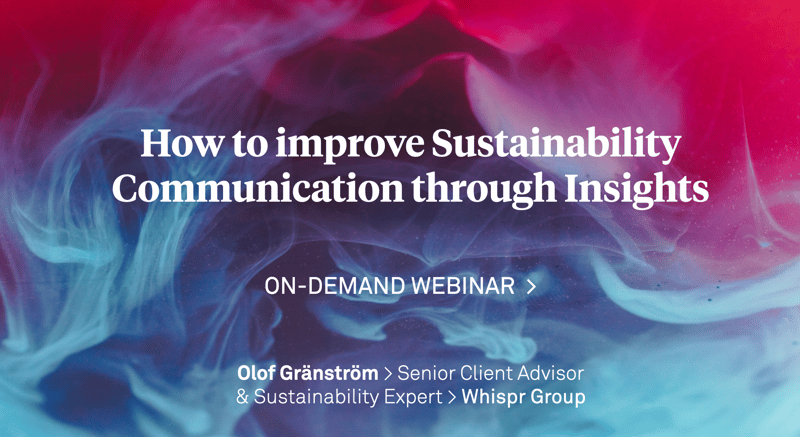 Consumers and organizations attitudes towards sustainability have rapidly changed, from a "nice to have" to a business essential that must align through marketing, production and stakeholder communication. In this rapid change, there are opportunities to grow, pivot brand perception, and increase business value.
In this On-Demand Webinar we will deep dive into "How to improve Sustainability Communication through Insights". Our presenter Olof Gränström, with over 15 years of experience within research and global development will guide us through the latest findings, trends and provide actionable insights that will bring light to your Science Communication and sustainability efforts.
This On-Demand Webinar will focus on Sustainability Communication and effective Science Communication, answering questions like:
How do we get our message to come across correctly?
How do consumers understand sustainability and global development?
How to construct data-driven narratives supporting your sustainability efforts?


Complete the form to view the On-Demand Webinar.


More information about Olof Gränström:
Olof has worked closely with the authors behind the acclaimed and renowned book Factfulness: Ten Reasons We're Wrong About the World–and Why Things Are Better Than You Think. His keynotes and insights are based on facts and not fear or biases, and he provides a legitimate starting ground for understanding the world based on data.

He has always made it his goal to provide a clear and precise understanding of our ever-changing world through stories, visualizations and interesting insights. Olof speaks on a number of different topics within the field of global development, sustainable development and using data to understand the ever-changing world.